Funders
Havremagasinet länskonsthall Boden activities are financed by Region Norrbotten, Boden municipality, and you who visit us!
Through the generous support of Region  Norrbotten and Boden municipality, and all our visitors, we can offer exhibitions and activities at Havremagasinet Länskonsthall Boden. 
Those who visit us have a vital role to play – it is ultimately thanks to you that we can continue to offer exciting and high-quality art experiences. Thank you for allowing us to exist! 
Here you can read more about our funders Region Norrbotten and Boden municipality: 

The art and culture of Norrbotten reflect the region's diversity. Therefore, the Norrbotten region administration aims to make arts and culture accessible to all who live in Norrbotten and visitors. This work is the responsibility of the Culture Unit, which is part of the Regional Development Department at Norrbotten region. In addition, the Culture Unit works on behalf of the Ministry of Culture and elected politicians to promote regional cultural development in Norrbotten. This work is done, among other things, by handling operating grants and project support to cultural institutions and cultural operators, by being responsible for the process of the Cultural Plan for Norrbotten, and by acting as a dialogue partner in national forums in the cultural field.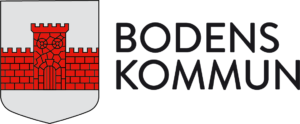 Boden is a city rich in both art and history and still has many cultural sites and monuments worth seeing, and that shows the past and Boden's history. The municipality of Boden works together with associations, the business community, and cultural workers to make visible and develop an already rich cultural life. The cultural unit consists of Havremagasinet County Art Hall in Boden, among other organizations.